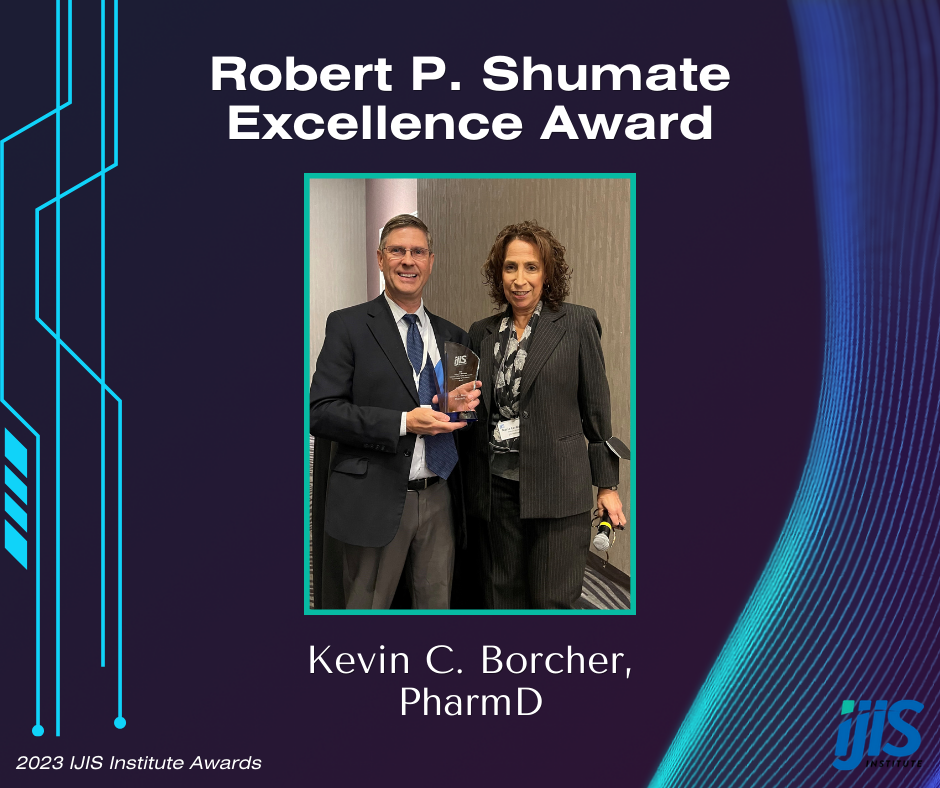 Ashburn, VA., November 9th, 2023 – The IJIS Institute recently awarded Kevin C. Borcher with the Robert P. Shumate National Public Safety and Justice Contributor to Excellence Award at its 2023 National Symposium.
Kevin Borcher is this year's recipient given his unparalleled contributions over the years to the development and the success of the Prescription Drug Monitoring Program in Nebraska. Dr. Borcher's leadership and subject matter expertise in this space has been paramount to the success of the Nebraska Health Information Initiative, ultimately providing better healthcare outcomes and increased public safety during a national Opioid crisis.
Dr. Borcher has been a leader and steadfast proponent to the State of Nebraska Prescription Drug Monitoring Program (PDMP) and the State's Opioid prescription awareness and reduction program. He championed the PDMP to include data for ALL prescribed/dispensed prescription drugs (legend & controlled substances) to be available for review in one convenient location for healthcare provider review and patient advocacy. His approach to a centralized data system with comprehensive Rx information is a hallmark success story to the Nebraska Health Information Initiative (NEHII). Because of Dr. Borcher's direct work with Nebraska State legislatures, the American Society of Automation in Pharmacy, and the Nebraska Pharmacy Association, an All Medication PDMP became a reality in 2018, giving health care providers a strong clinical tool to better provide patient care.
The Robert P. Shumate National Public Safety and Justice Contributor to Excellence Award is presented annually by the IJIS Institute to an individual from either industry or the public sector that has made the most valuable contribution to justice and public safety information sharing over his or her career. Each awardee is dedicated to the Institute's mission to drive public sector technology innovation and empower information sharing to promote safer and healthier communities. More information is available online regarding the IJIS awards.
IJIS Executive Director Maria Cardiellos stated "the IJIS community is pleased to honor Dr. Kevin Borcher for his significant contributions to the advancement of information sharing in the justice and public safety communities. RxCheck would not be what it is today without the vision and leadership of Dr. Borcher, and it has been a pleasure for our team to work and collaborate with him directly. Please join me in congratulating him for this acknowledgement."